Silke Zacharias- Stories, Illustrations, Translation (French) and Editing , Webmaster, Story-Teller
Born in Germany's Ruhr Valley in 1966. After completing her education as a para-legal, followed by four semesters of law school she immigrated to France in 1990, where she obtained a Master's degree in German Language Studies. She worked first like a teacher for German and English at grammar school an than as a secretary for the german business department of a publisher of post- and greeting cards. After two years of home schooling with Yann, she returns now to her passions (writing, painting and 3D-programmation).
Ellen Zacharias - Stories
Retired school teacher, currently residing in Germany. She is not only a talented painter, crafter and poet, but an avid reader and big fan of the computer as well. These multiple talents enabled her to currently comprise her ... Now she comprises her creativity and the longing for her daughter Silke and her grandson Yann, who live in France, into the knitting of sweaters for the latter and into these stories ...
Yann Cizaire
The "famous little Yann" made his grand entrance into this world in 1998. He became his grandmother's and his mother's inspiration for these stories. He also presented them with the perfect opportunity to again take up their favourite childhood endeavours writing and drawing, which gave rise to this group project and, by the way, he continues to inspire his father to invent various computer games ...
Ute Z. Baer – Translation and Editing (English)
She is Ellen's older daughter, born in the German "Sauerland" in 19??. She left her law studies in 1979 to immigrate into the United States of America. She has been a licensed real estate broker since 1982, in 1995 she obtained a Bachelor of Arts in Letters degree from the University of Oklahoma. She resides in OK with her cats and currently studies voice, for a solo career as a lyrical soprano.
Philippe Cizaire – Programming
Silke's husband, Yann's father, born in Nîmes, France, in 1965. He is not only teacher in a small elementary school, but also a first class computer programmer and an enthusiastic inventor of computer stuff. If you are curious to his work go ahead and surf his website: http://cartoon6r.free.fr/
If you like our books, please don't hesitate to send us an e-mail - sometimes encouragement is essential to keep going. Should you have any suggestions, especially on how to improve our books, or you want to offer us a job (you never know!), we would be very happy to hear from you.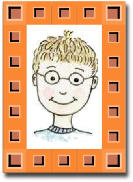 Copyright ©2013 Imagic books - Silke Zacharias
Last update: 18th november 2013
e modification: 23/11/2011

Accueil
Parent
Fairy Tales
For Colouring / Illustrations
Puzzles
Excerpt